October 15, 2023 6:32 pm
Leave your thoughts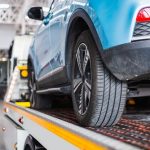 If you've ever found yourself in a situation where you need a tow in Salt Lake City, UT, you know how stressful and frustrating it can be. Whether it's a breakdown, a flat tire, or an accident, knowing what to do in such situations is crucial for your safety and peace of mind. In this blog post, we'll discuss the steps you should take to ensure your safety, the importance of calling a reliable tow company, and why we are your best choice in Salt Lake City.
Prioritize Your Safety:
The first and foremost concern when you need a tow in Salt Lake City is your safety. Here are some important steps to take:
1. Pull Over Safely:
If your vehicle can still move, pull over to the side of the road or into a nearby parking lot. Ensure that you are not blocking traffic, as this can lead to accidents and further complications. Turn on your hazard lights to alert other drivers that you're experiencing issues.
2. Assess Your Situation:
Once you are in a safe location, assess the situation. Determine the cause of your vehicle's trouble, whether it's a mechanical breakdown, a flat tire, or an accident. Knowing the problem will help the tow truck operator understand what equipment or assistance may be required.
3. Call for Help:
If you're hurt or need to file a police report, call 911 immediately. Your safety should always be the top priority. The police will respond to your location to assist with any injuries or accidents.
4. Stay Inside Your Vehicle:
While waiting for assistance, it's safer to stay inside your vehicle, especially if you're on a busy road. This reduces your exposure to potential hazards and ensures that you're visible to other drivers.
Why Choosing a Reliable Tow Company Matters:
Now that you've ensured your safety, it's time to call a tow company to help you out of your predicament. Choosing the right company is crucial for a smooth and stress-free experience. Here's why reliability matters:
1. Fast Response Time:
Reliable tow companies understand the urgency of your situation and aim to provide a quick response. This is especially important if you're stranded on a highway or in extreme weather conditions.
2. Trained and Experienced Operators:
Experienced tow truck operators know how to handle your vehicle with care. They'll have the expertise to load and transport your car without causing further damage.
3. Versatility:
A dependable tow company can handle a variety of situations. Whether you drive a compact car, a heavy-duty truck, or even a motorcycle, they should have the equipment and expertise to tow your vehicle safely.
4. 24/7 Availability:
Car troubles don't adhere to a 9-to-5 schedule, and neither should your tow company. Look for an emergency roadside service that operates 24/7, ensuring that you can get help at any time of the day or night.
AMR Towing & Recovery: Your Best Choice in Salt Lake City
When it comes to choosing a reliable tow company in Salt Lake City, our team here at AMR Towing & Recovery stands out as the top choice. With years of experience and a commitment to customer satisfaction, we offer a range of benefits that make us the go-to option in the area!
1. 24/7 Service:
We understand that car troubles can strike at any moment. That's why we offer around-the-clock service, ensuring you're never left stranded.
2. Towing for Any Vehicle:
Whether you're driving a compact car, an SUV, a motorcycle, or a heavy-duty truck, our team can handle the towing. Our versatile fleet of tow trucks and experienced operators are equipped to tow any type of vehicle.
3. All-Weather Towing:
Salt Lake City's weather can be unpredictable, with snow and ice in the winter and hot summer days. We are always prepared to tow your vehicle in any weather condition, ensuring you're never left in a lurch due to inclement weather.
4. Professionalism and Expertise:
Our team of professionals is trained to provide courteous and efficient service. We understand the importance of getting you back on the road as soon as possible, while ensuring your vehicle is handled with care.
Working With AMR Towing & Recovery
For a reliable and stress-free towing experience in Salt Lake City, look no further than AMR Towing & Recovery. Click here to visit our website for more information or to request our  services. Alternatively, if you're in need of immediate assistance, you can click here to call us now!
Categorised in: Roadside Assistance, Tow Truck Service, Towing Company, Vehicle Towing
This post was written by admin