September 15, 2023 5:02 pm
Leave your thoughts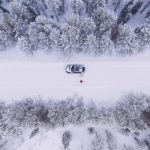 Winter can be a challenging time for drivers, especially those who operate heavy commercial vehicles like semi-trucks. The combination of icy or snowy roads and the sheer size and weight of these vehicles makes them particularly vulnerable to accidents and getting stuck. In such situations, it becomes essential to rely on experienced and professional towing services to ensure a safe and efficient recovery. In this blog post, we will highlight the various factors to consider when towing a semi-truck on icy or snowy roads.
1. Weather Conditions and Road Awareness
Before even attempting to tow a semi-truck on icy or snowy roads, it is crucial to assess the current weather conditions and road awareness. Check for any weather advisories or warnings issued by local authorities. If the conditions seem too hazardous, it is best to wait until the roads are cleared or seek professional towing assistance.
2. Proper Equipment and Training
Towing a semi-truck necessitates advanced equipment specifically designed to handle these heavy-duty vehicles. The towing company should have well-maintained and reliable flatbed or heavy-duty tow trucks capable of safely lifting and transporting semi-trucks. Additionally, the towing team should be highly trained and experienced in handling such intricate recoveries to minimize any potential risks.
3. Stabilizing the Vehicle
Upon arriving at the scene, the towing team needs to prioritize the stabilization of the semi-truck. This involves utilizing different techniques like tire chaining or placing traction mats under the tires to gain traction on slippery surfaces. Ensuring the truck is stable and not at risk of sliding or tipping is paramount before proceeding with the actual towing.
4. Assessing the Towing Method
Various towing methods exist when it comes to towing a semi-truck on icy or snowy roads. The decision will depend on the specific circumstances, the severity of the situation, and the resources available. Common methods include front-towing, rear-towing, or using a flatbed tow truck to carry the entire semi-truck.
5. Slow and Steady Approach
When towing a semi-truck on icy or snowy roads, it is of utmost importance to maintain a slow and steady approach. Abrupt movements or excessive speed could lead to further accidents or road blockages. The towing team should exercise caution, especially during turns, to prevent skidding or loss of control.
6. Communication and Coordination
Clear and effective communication between the towing team and the truck driver is crucial during the towing process. Proper coordination ensures that both parties understand the steps involved, reducing the likelihood of accidents or damages to the vehicle.
Working With AMR Towing
When it comes to towing semi-trucks on icy or snowy roads in Salt Lake City, UT, there is no better choice than AMR Towing. With years of industry experience and a dedicated team of highly trained professionals, we are the leading towing service provider in the area.
We understand the unique challenges presented by winter weather conditions. Equipped with state-of-the-art tow trucks and a wide range of specialized equipment, our team ensures the safe and efficient towing of semi-trucks on icy or snowy roads.
With a commitment to customer satisfaction, we also offer prompt and reliable services, available 24/7. Our team of skilled professionals is always ready to tackle any towing challenge, providing peace of mind to truck drivers and fleet owners alike.
When it comes to towing semi-trucks on icy or snowy roads in Salt Lake City, UT, choose our experienced professionals here at AMR Towing. Contact us today for all of your towing needs and experience their industry-leading service firsthand.
Categorised in: Tow Truck Service, Vehicle Towing
This post was written by admin