May 15, 2023 6:53 pm
Leave your thoughts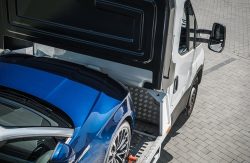 Tow trucks are often seen as just a vehicle used to transport disabled vehicles from one place to another. However, they play a crucial role in emergency response situations. From clearing accident debris to transporting disabled vehicles, tow trucks aid the safety and smooth flow of traffic on the road. In this blog post, we will take a closer look at the role of tow trucks in emergency response situations.
Clearing Accident Debris:
After an accident, tow trucks play an essential role in clearing the debris from the road. In case there are injured victims, the tow truck driver can provide immediate aid, call 911, and coordinate with first responders. The tow truck also removes damaged vehicles and other debris such as broken glass, metal, or plastic wreckage, making the roadway accessible and safe for other motorists.
In emergency response situations, such as an accident, sometimes various safety concerns must be addressed. The tow truck driver's responsibility to handle vehicular traffic and keep other drivers, pedestrians, and himself safe. He is trained to provide road safety and block the accident scene from other drivers who may be passing by, creating a safe perimeter.
Transporting Vehicles:
Many times, emergency response requires the immediate evacuation of disabled vehicles from a location for reasons like eliminating vehicle leaks due to weather or harsh road conditions, or for the transportation of expensive and valuable goods and construction equipment. Tow trucks help transport these disabled vehicles to their desired destinations, repair shops or other destinations safely.
Assist in Roadside Emergencies:
Tow trucks may be called to the scene of vehicles, which are out of fuel, suffered battery failure, flat tires, or other similar emergencies. Roadside emergencies are more prevalent than most people think, and tow truck drivers are often the first point of contact, arriving on-site to provide immediate roadside assistance.
The tow truck driver is trained and skilled in jump-starting dead batteries or changing a flat tire, and in some situations, this may be all that is needed to get a car back on the road. If repairs require more than a jump-start or tire change, the tow truck may relocate the vehicle to the workshop for repair.
Safeguarding Towing Equipment:
Tow trucks carry essential gear and equipment for emergency response situations, such as chains, straps, winches, hydraulic booms etcetera. These gears are important for tying the disabled vehicle safely onto the tow truck and for hoisting the car onto the truck. This process prevents any further damage to the vehicle and lowers the liability of the tow truck driver.
In an emergency response scenario, damaged equipment not only compromises the safety of the tow truck driver and victim but also risks damaging the road. It's the job of the tow truck driver to safeguard all equipment and ensure it's maintained in working order. In the end, it's the driver's responsibility to ensure all individuals and equipment are transported safely.
Assist with Recovery & Salvage Operations:
Tow trucks may also assist with recovery and salvage operations. In a severe accident, the vehicle may not be repairable, or the car has gone off-road into a ditch, stream, or swamp. The tow truck can work with other heavy equipment to recover the vehicle and other items associated with the accident scene.
Once again, it's essential to ensure that the roadways and accident areas are kept clean and cleared for the safety of other drivers. The tow truck driver provides assistance at the scene, ensuring that the recovery of these vehicles is safe and secure.
Conclusion:
Tow trucks are a vital entity in emergency response situations and play a crucial role in ensuring the safety of the road, victims, and emergency responders. They are trained to handle specific emergencies and know how to manage accidents and other scenarios. It's important for other drivers to understand the role of tow trucks in emergency response situations, so they provide assistance or give other necessary considerations, to avoid further accidents or injuries. In summary, tow trucks add to the critical safety infrastructure that we depend on, to manage events we hope never happen.
Categorised in: Tow Truck Service
This post was written by admin