April 17, 2023 9:53 pm
Leave your thoughts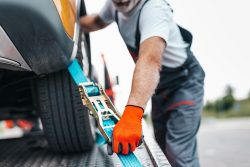 When your vehicle breaks down, you need a quick response from an auto towing company. Selecting the right one can mean the difference between a stressful situation and a stress-free experience!
Reputation
Whenever you are in need of a towing service, it is important that you choose one that is well-reviewed. A company with a positive reputation can be a great help to you during a difficult time, and they will do their best to make sure your experience is smooth and pleasant. A towing service with a good reputation can also help you get your car fixed quickly and properly. They will be able to help you with everything from getting your vehicle out of the snow or ditches to recovering it when it goes off the road in a precarious situation.
Response Time
A towing company's response time is a big factor in determining whether or not they are the right choice for you. This is especially important if you are in an emergency situation. You can check a towing service's response time by calling their phone number and asking how long they will take to come to your location. This will allow you to make an educated decision on which company to choose. It's also important to look at their hours of operation. If a towing company claims they have fast response times but only operate during regular business hours, this could be misleading.
Equipment
If you need towing service, then you want to choose a company that has the proper equipment. This will help them to move your vehicle in a safe manner and reduce damage to your car. You should also ensure that they offer a variety of towing services. For example, they should have flatbed towing trucks and motorcycle towing trucks.
Pricing
If you are in a position where you need to be towed, you want to find a company that will be affordable and reliable. A good towing service will have fair pricing, and they should provide you with a cost estimate upfront without hidden fees or unexpected costs. A towing service's pricing is based on several factors, including hookup fees and per-mile charges. The higher these are, the more it will cost to have your vehicle towed. In addition, you should consider whether the towing company offers additional services, such as a mechanic to help with any repairs. This can be helpful if you need towing after you've had a car accident or have an engine failure that keeps your vehicle from starting. A reputable towing company will discuss all of their fees, including hookup and per-mile charges, and will give you an accurate cost estimate over the phone or online!
Categorised in: Tow Truck Service, Towing Company
This post was written by admin